Overgrowth syndromes and vascular anomalies

Our team cares for patients of all ages with overgrowth syndromes regardless of their anatomical location.
We offer patients multidisciplinary care covering the various medical and paramedical aspects (occupational therapy, physiotherapy, etc.) of these pathologies. Genetic diagnosis is the central element of therapeutic care, and the Necker-Enfants malades hospital provides the latest generation sequencing techniques to quickly identify the molecular anomaly.
The medical and paramedical teams work in close collaboration with the fundamental research laboratories present on the Necker-Enfants Malades hospital site. This integration of research and clinic allows us to offer personalized and precise medicine.
Thus, we propose for all patients a genetic test in order to have a molecular diagnosis. The genes tested are the following:
AKT1, AKT2, AKT3, BRAF, GNAQ, KRAS, MAP2K1, MTOR, NRAS, PIK3CA, PIK3R1, PIK3R2, RASA1, TEK, TSC1, TSC2, GNA11, GNA14, HRAS, MAP3K3, KRIT1, EPHB4 and PTEN.
If we do not find a mutation, we continue our investigations with an exome (exploration of all DNA coding sequences).
Keywords: CLOVES, Proteus, Klippel Trenaunay, Macrodactyly, Megalencephaly, MCAP, MCM, PIK3CA, AKT1, AKT2, AKT3, mTOR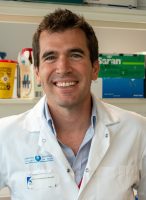 Pr Guillaume Canaud
MD, PhD
Phone. +33 (0)1 44 38 17 73
You can also fill out an online form. The team will get back to you as soon as possible.
To prepare your consultation :
please bring the genetic, medical, radiological, surgical documents available